The third leg of our Switzerland rail trip was Lucerne (Luzern). It's a picture postcard city, perched on the edge of the Vierwaldstättersee or, for we English speakers, Lake Lucerne. I had imagined a small, quiet resort so was quite surprised at the vibrant sounds of life that enveloped us as soon as we came out of the station. Lucerne is a tourist hub for its music, beautiful old town and its location as the starting point for ferry trips which whisk travellers up to the mountains of Rigi, Pilatus and Stanserhorn.
Where to stay in Lucerne
Our hotel choices for Switzerland were all excellent. We loved Der Teufelhof in Basel for its art and Hotel Allegro in Bern for its incredible views. Our pick for Lucerne was the Hotel des Balances and I have my husband, Dougie, to thank for this decision. All the rooms in this historic hotel, on the banks of the river Reuss, are light, airy and beautiful. But the romantic suite is on a different level of gorgeousness. If you're going to spurge on a hotel room, I can highly recommend this one.
I don't think I've ever been so wowed by a room. A vast bed, surrounded by pale, sheer curtains. A stand-alone jacuzzi bath. Tiny white pin lights sparkling above the bed and the bath. Bang & Olufsen surround-sound music. Parquet flooring. Leather seats. Large balcony with superb views of the river and the Chapel Bridge. It was exquisite and we had three nights to luxuriate in this spectacular sanctuary. A Lucerne love nest!
Fine dining experience in Lucerne
Although many of our meals on this holiday were budget choices –  supermarket hot food counters, excellent outlets at train stations – we opted for one very special evening meal at Restaurant Balances, part of our hotel. An award-winning restaurant and highly rated on many review sites, the tasting menu sounded too good to resist. With complimentary Proseccos to start the evening, we opted for five courses rather than seven and were given the choice of which two courses to drop. Soup and cheese were tossed aside in favour of five seriously good courses including two extra treats – a tiny smoked salmon amuse bouche and a pre dessert of peach and rosemary ice-cream. So we did have seven courses after all. The dishes were delicate but not tiny: there was still the sense of traditional Alpine comfort food shown in a tasty steak with a ragout accompaniment and a honey and mustard pork fillet. The chef triumphed with a pudding of warm elderberry muffin with elderberry sorbet.
Just as in Basel and Bern, we couldn't resist the cakes in Lucerne. Our Kaffee und Kuchen ritual continued here as we bought slices of cake from local bakeries and took them back to our eat on our balcony, drinking coffee provided in our room. We had the best spot in town so why would we want to watch the world go by anywhere else?
Attractions in Lucerne
Tempting as it was to sit drinking coffee on our balcony all day or lie on that sumptuous bed, surrounded by twinkly lights, Lucerne was calling us to discover its treasures. On one day we took a ferry across the lake. We had plans to link this with a cogwheel railway or cable car up to one of the mountains but, from sheer laziness coupled with a desire to just soak up the sunshine and the beauty of Lake Lucerne from the water, we just sat back and enjoyed the ride. You can read more about that day in the piece I wrote for the Lincolnshire Free Press.
Lucerne itself, with its waterfront promenades and flower-filled bridges is an ideal city for happy wanderings, mooching around shops and eating cake at pavement cafes. But it also has a wealth of history to share with visitors. As overnight guests in Lucerne, we were given the Lucerne Visitor Card which gave us free use of buses and trains within the city network. It also offered discounts to many museums.
Kapellbrücke – Chapel Bridge
I spent an enormous amount of time trying to photograph the best view of this extraordinary 14th century covered footbridge which spans the river Reuss at an angle. I don't think I did it justice, as I couldn't quite capture the scale or the beauty of this covered bridge with the octagonal water tower (Wasserturm) near its centre. The oldest wooden bridge in Europe, it was damaged by fire in 1933 but was thankfully rebuilt.
The paintings on the roof panels, depicting scenes from Lucerne's past, were also restored. It is a magnet for tourists, all wanting selfies from different positions on the bridge, but it is still a wonderful experience to walk along it and appreciate its unique appeal.
Spreuerbrücke – Spreuer Bridge
What's this? Another covered, wooden bridge? Indeed. A little further along the river, this 1408 bridge is darker than Chapel Bridge but still in its original state. The name refers to spreu (chaff) which legend says the medieval villagers were allowed to throw into the river only from this bridge. This time, the roof panels, painted by Kaspar Melinger, illustrate the macabre Dance of Death. Nearby is the Nadelwerk, a 19th century needle dam which regulates the water flow of the river, using vertical pieces of wood.
Museggmauer
We picked the perfect day to explore the preserved section of Lucerne's medieval fortifications. The walls are about 850m long, at the northern edge of the old town, and are punctuated by nine towers. A walkway is open for visitors between April and November between the Schirmerturm and the Wachturm. We began our exploration, however, further west, deciding to clamber up, then down, the many steps of the Männliturm before joining the walk further east. There are magnificent views from the towers across the city and beyond to Lake Lucerne.
If you're lucky, your husband will unintentionally pose like one of the sculptures at the top and then you'll think, if only he was wearing his kilt…
Bourbaki Panorama
An unexpected delight, this 112m long x 10m high circular painting was the creation of artist Edouard Castres. The mural depicts the French army's interment in Switzerland during the Franco-Prussian war (1870-71). The story is brought to life with music and narrative through an iPad which is given to each visitor. Dougie and I were fascinated by the detail in this extraordinary painting. The personal accounts we could listen to and read on the iPad were very moving and provided us with some fascinating information about this part of Switzerland's history.
The Lucerne Visitor Card gave us 20% discount off the 12 CHF (Swiss Franc) entry to the Bourbaki Panorama so it cost us about £7.40, including the loan of the iPads. The building which houses the panorama also has a cinema and at galleries. It has a lovely little café too, where we stopped for lunch.
Löwendenkmal – Lion Monument
I don't think I was truly prepared for the sight of this sculpture – a figure of a dying lion pierced by a spear. It's a heart-rending monument in memory of the Swiss Guards of Louis XVI who died while defending the Palais des Tuileries in Paris on 10 August 1792. Designed by Danish sculptor and carved by German stone-mason, Lukas Ahorn, it was described by Mark Twain as "the saddest and most moving piece of rock in the world." It is hewn out of a sandstone wall above a pond in a very peaceful location, despite the busy roads around it.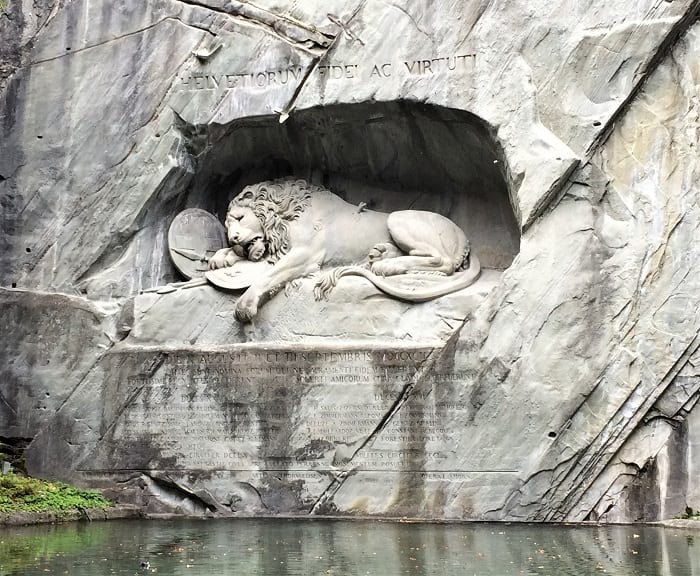 We had some moments to appreciate the skill of the craftsmen creating such a pained, soulful creature. Then dozens of tourists arrived to take jolly photos of themselves smiling cheerfully in front of the statue. I just don't get that. Yes, I took a photograph so I could remember this remarkable memorial. It didn't need me or anyone else to be in the same shot to prove I was there.
Kultur und Kongresszentrum
Known as the KKL Luzern, this jaw-dropping concert hall was designed by French architect Jean Nouvel and sits majestically on the waterfront. Initially it looks a little out of kilter with the cobbled streets and decorative houses of Lucerne, but it is such an impressive building with outstanding acoustics, it has become a world-famous venue, raising the profile of the Lucerne Festival and providing a superb space for art and music.
We were fortunate to be in Lucerne during the World Band Festival and snapped up two of the last remaining tickets for the Tattoo on Stage. Having enjoyed the Edinburgh Tattoo this summer, an extra helping of drums, pipes and magnificent brass was a rather surreal experience in this dreamy spot in the heart of Switzerland.
Other things to do in Lucerne
You could easily base yourself in Lucerne for a week or more, making the most of its location to reach nearby mountains if you wanted to spend time hiking. Within the city itself there is the Swiss Museum of Transport, the most popular museum in the country. This would be fantastic for families as it includes rockets, aeroplanes, vintage cars and steam locomotives. We didn't manage to see the Glacier Garden either but this is another family favourite if you're interested in geology or just fancy exploring the Mirror Maze. For an extra helping of culture, the Richard Wagner museum is housed in the villa where the composer lived with his wife during his time in Lucerne. There's a Natural History Museum, the Kunstmuseum in the KKL building and the Rosengart private collection of art.
Or you could just walk through the pretty streets, admire the churches and be entranced by the painted facades on the buildings. You never know what you will find if you perfect the art of just seeing where your feet take you. Lucerne, as the final stop on our Swiss adventure, was a joy. I think it deserves a second visit, to see more of the mountains, eat more of the cake and discover more of this dazzling jewel of Switzerland.