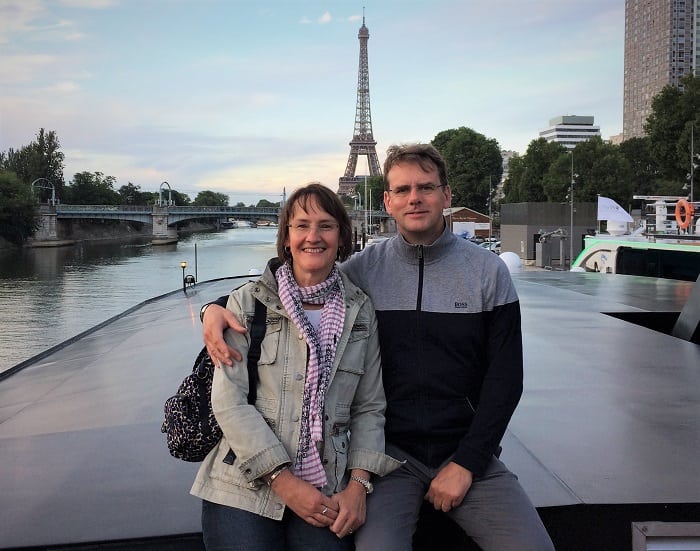 Docked in Paris, the passengers on board The B, U by Uniworld's black pearl on the Seine, had just finished their main course at dinner. Suddenly the rhythmic sounds of Rihanna's "We Found Love" thudded out across the dining room as the chefs from the kitchen appeared at the buffet table. As lights flashed and our waiters clapped enthusiastically, the chefs brought out dozens of individual desserts and began to decorate the table with squirts of chocolate sauce, sprinkles and anything else they could shake to create a sugary composition of which Jackson Pollock would be proud. Everyone was on their feet as they joined in with 'Crazy Dessert Night'.
We had another boat moored alongside of us that night, which is common practice on river cruises. Unusually, both ships had neglected to close the blinds to avoid both sets of passengers peering at each other. As the folk on The B whooped and whistled, the guests on board the neighbouring ship, dressed in their finery, stared out of the window, open-mouthed at the high jinks next door.
This wasn't the first time our ship had caused a stir on the river that week. Wherever we docked, heads turned. The sleek, black ship with its twinkling neon lights, attracted attention from passers-by at every port. We often saw the captain offering other crews an impromptu tour, pointing out the TV screens that replaced menus in the dining room and the ingenious bar on the top deck which could be lowered for any low bridges.
You may remember we booked this trip, The Seine Experience, because we were intrigued by the new concept of cruising that U by Uniworld was offering. It is designed to appeal to millennials but they hope to attract all ages of adult holiday-makers who seek luxury but not the pomp that can often accompany it.
Have they succeeded? In the main, yes, although, as it's a new venture, there are always going to be some necessary tweaks.  I think the company realised early on that focusing on the younger market (initially restricting passengers to the under 45s) was not going to work. Abandoning the age restriction has allowed people like me, in my fifties, to join in the fun.
What we loved about our U by Uniworld river cruise.
A great mix of people on board
We made friends on holiday. Often we're happy with our own company but thanks to U by Uniworld and the more intimate nature of river cruising compared to ocean cruising, it was easy to find a buddy or two. We hit it off right away with a couple from the USA, also in their 50s, and a British solo traveller in her 30s, who was the only other British person on the ship. We regularly met up for dinner and we loved, more than anything, an evening cocktail and chat on the top deck at sunset. I enjoyed the company of an Australian lady in her 40s who was travelling with her mother and a number of American male solo travellers in their 30s and 40s were frequent table companions.
Of the younger passengers, a few were with parents or grandparents, and there was a young couple on their honeymoon. The other guests in that age bracket were mainly influencers or journalists who had been invited to join the cruise. Would these young people have chosen such a cruise if it hadn't been complimentary? Of the ones I spoke to, probably not. River cruising is still seen as a vacation for an older generation and for some, even at the very reasonable cost compared to other cruises, it might still be out of their reach. Will they be able to spread the word with beautifully curated photographs and stunning video that cruising with U by Uniworld is a little bit different? I hope so but my hunch is that the 30-60 market is a more realistic one to tap into: solo travellers and empty nesters like us could be their core customers.
Freedom to choose different activities
The typical excursion on a regular river cruise is a guided tour. This is still a feature but, thankfully, if there is a tour, it tends to be a short orientation walk before passengers are left to their own devices. This worked well in Rouen and Honfleur, providing plenty of time for independent sightseeing.
Like other cruise companies, who are now realising their customers might like to be a bit more adventurous, U by Uniworld also offers alternatives on each day. Our favourite was a two hour kayaking session on a tributary of the Seine. I was surprised that the only other taker for this was our English friend. We three plucky Brits took to the water, negotiated a few small rapids and returned to the ship tired but exhilarated. The crew, realising we had missed lunch, plated up some food for us to have in the lounge: such a lovely gesture.
Favourite activities for other guests included the foodie tour in Paris where they picked up all the makings for a seriously good picnic, and a champagne-fuelled night at the Moulin Rouge. The onboard mixology class helped our friends create a Lavender Collins, a fabulous gin and berry potion which became our go-to drink for the rest of the week.
The B was moored overnight on four out of the seven nights, in Paris for three and once in Rouen, allowing passengers the freedom to enjoy the nightlife. We loved our first night, walking into the centre of Paris to see the Eiffel Tower putting on a sparkling show for visitors. The sound and light show at Rouen's cathedral rounded off a great evening which had begun with local cider in the city's Delirium Bar.
The design of the ship
We definitely had the best-looking ship on the river. If the black exterior wasn't enough, the geometric black and white interior with scarlet splashes certainly made an impact. Our ship also had the best top deck as it had comfortable seating around the perimeter and a stylish bar – no need to sit and wait for someone to come up from the lounge to serve you a drink. This upper deck was a real focal point for the ship's passengers in the evening. We very rarely used the lounge, which is usually the hub of night-time entertainment. I do think the hot weather had some bearing on this.
The rooms were small, as is usual on river cruises, but cleverly designed with oodles of space in hidden cupboards. The standard 'studio' rooms on the lowest deck do have windows but they don't open and they have fixed shutters so your view is restricted by the slats. If you can, upgrade to a balcony room on the middle deck where the windows and shutters move across to give you a glorious view of the stunning Seine scenery. Beds were incredibly comfortable, beating some of the best luxury hotels in that respect.
Food, glorious food
Passengers were provided with brunch from about 9.30am until 12 ish. This certainly suited the younger generation who appreciated the longer lie-in. Coffee and pastries were available from 6.30am for anyone needing an earlier energy boost. Dinner, from 7pm, was a relaxed affair; sometimes a buffet, at other times, waiter service. No-one dressed up although I think if someone had done so earlier in the week, a few of us might have hauled a frock or two out of our luggage.
The quality of the food was excellent. Made-to-order omelettes, fruit smoothies and muffins for brunch, alongside bacon, scrambled eggs and plenty of fruit, salad and bread accompaniments. For dinner, sharing plates of deli delights plus succulent burgers, pasta and vegetarian treats. High class chow.
What could U by Uniworld do better
We were one of the first groups to try out The Seine Experience so inevitably there will be things that worked better than others. U By Uniworld will undoubtedly listen to the feedback of their passengers and make some adjustments.
Communication
The company were keen to promote their paperless concept, urging us to read emails or contribute to the WhatsApp group. Some passengers did, however, crave a bit of paper with the day's itinerary, especially if their phones were playing up. I do think more information could have been given with regard to each activity. How many hours will we actually be kayaking or biking? Does the Moulin Rouge ticket include drinks?
It would be great if maps of all port stops could be available at reception. I know, I could have used the maps on my phone but a proper annotated map from a Tourist Office is so useful. Thankfully there were some of Paris and we were given one of Rouen on our orientation walk. I think they will be provided in the future, now that they have the first few cruises under their belt.
We were amused by the receipts we were given for each purchase we made on board. So much for a paperless cruise – those chitties were huge!
Prices for drinks
Unlike many river cruise operators, alcoholic drinks with meals weren't included. A drinks package could be purchased but this seemed very pricey. The cuisine was brasserie-style so I reckoned the drinks prices would be set to match this. But 9 euros for a small glass of red wine and 46 euros for a bottle felt a bit steep to me, especially when the whole vineyard of France lay just beyond the gangway. 9 euros for a cocktail after dinner was more reasonable.
A better range of bikes for passengers
The snazzy black bicycles certainly looked the part. But whoever made the purchase was obviously very tall and probably male. The bikes all had a horizontal crossbar, a very slim uncomfortable saddle and, even at its lowest setting, at 5'7″ my toes could only just touch the ground. How I envied the very sensible sit-up-and-beg models the passengers on another boat were using when they also cycled to Monet's Gardens in Giverny.
The Verdict
Dougie and I had a fantastic week cruising on the Seine with U by Uniworld. We loved the itinerary: from Paris to the Normandy coast and back again. Despite the whole concept being new, all the staff played their part in making our cruise relaxing and entertaining. Big thanks go to our U-hosts, Boris and Sabrina, who were very cheerful and chilled. One of my favourite moments was the unexpected climb up the footbridge of the Pont de Normandie in Le Havre. Sabrina had bought some Calvados and sparkling cider and had snaffled some little shot glasses for a toast. Making memories for the guests was the focus of the U by Uniworld team but they managed to achieve this without the trip feeling too rigid and constrictive.
That night in Paris, as we returned to The B after a little post-dinner stroll, we walked through the reception area of our neighbouring ship. I looked around and, spotting an elderly gentleman in his white jacket and bow tie, commented on the beauty of his ship. He smiled, looked towards the monochrome lobby of our young whipper-snapper of a vessel and whispered, "But yours looks much more fun."
We booked and paid for this U by Uniworld holiday ourselves. Please note: in 2019 this cruise will be called Northern France at a Glance 
Look out for more posts in the coming weeks about our excursions:  Versailles, Rouen, Honfleur and Giverny.